Operations and Workflow Management
Windows of client applications connect to the server modules, display the current status of operations, and provide full control and management of the execution progress of recording and playback schedules.
SL NEO Client Software includes tools for collective non-linear editing by proxy, network editors for creating and editing multi-layered compositions of graphics and design templates, tools for file import, transcoding, cataloging, search, browsing, and markup of materials.
Directly from workstations, you can manually control SDI switches and redirect IP streams, control and redirect virtual uncompressed streams between software modules at all points in the virtual path. Server platform settings are performed via a web browser.
Air Manager

Air Manager is a multifunctional application that combines tools for managing multiple recording and playback channels, record- and playlist editors, tools for searching, viewing, importing, and marking up content.
Recording Control
«Record» windows with executable record sheets (by the number of recording channels) display the list of recording tasks and their current statuses. Each GUI window connects to the File Recorder server module and displays its status. For each event, the source is specified, which may be an external line, or a VTR (in this case, the VTR control is activated).
According to the sequence, File Recorder executes the events and places the files on the server array, or on network resource.
Rec-lists are loaded either from traffic system or prepared in the rec-list editor. The functions of creating, editing, inserting new lines or a rec-sheet file in the executable recording schedule, setting the «life» time of the material are implemented.
Each «Record» window contains an indicator of the input audio level and level control. The number of windows is not limited and is set in the process of software configuration, according to the number of active recording channels on one or more SL NEO Servers in network.
Playout Control
The «Broadcast» windows allows you to fully control and manage the playback of an unlimited number of channels. The Air Manager user interface displays multiple playlist windows simultaneously, depending on the number of connected services. Each playback control window displays a list of events, with a source specified for each event. The source can be a server file playback channel or an external line.
According to the sequence, the Program Player server module puts the file on playback and makes program switching of external lines to the output program. During playback, the server storage is continuously checked for the content specified in the playlists. Schedules are loaded from traffic system, imported from Excel files, or prepared in the built-in playlist editor.
The «Broadcast» window contains a set of tools for editing the running playlist and selected events, including instance jump to any clip in the list, Live event «hold» functions, changing the Out point for the active event, and many others.
Each Main event in the playlist can be associated with «Slave» or «Secondary» events. A slave event can be, for example, a graphic clip whose start of playback is linked to the start of the main event. Graphics playlists are displayed in separate windows. The operator has full control over the playback processes of the design elements for each channel.
Content Management
The Media Browser Tool displays the storage contents of one or more servers on a shared network. It is a module of the Air Manager, News Cut applications. The Media Browser includes features for manually importing files into the online storage, adding a short description, searching, filtering, setting «lifetime», and exporting content and fragments.
The File Monitor Tool is used to view and edit IN and OUT points. The use of proxies does not load server arrays and makes network collaboration possible.
Image and sound can be redirected from the video card of the client station to the SDI card for viewing on an external video monitor, displaying sound levels and timecode. Hotkey support allows the use of standard USB Jog-Shuttle installation controllers to work with video.
Network Graphics Editor
Allows you to create and edit titles and multi-layer graphic compositions. Is a module within the applications Air Manager, News Cut, Media connect.
The editor interacts with the Media Database, all source materials and results of the work are stored on a server array. This allows multiple users to work on projects simultaneously and instantly play back the created compositions. Rendering is performed by the server directly during playback.
Graphics Editor allows you to work with static graphic files, fragments of 32-bit animation and video with access to the database and proxy copies. Editor has a complete set of tools for quick creation of graphics with 2D effects and titles, including clips, sliders, TV clocks and RSS feeds.
News CUT

The capabilities of the SL NEO platform allows you to fast edit on network workstations news reports, TV stories using proxy copies. For these purposes the network client News CUT is used. Source materials are stored in the database of one or several SL NEO servers, all News CUT users have access to the database and proxies and work with projects without downloading source materials to their stations.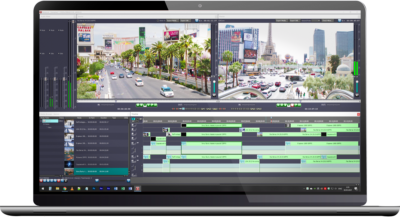 Editing results are stored in the server database in the form of text XML descriptions of editing solutions, and the stories are immediately available for on-air playback after editing is completed. Playback is performed using standard playlist operations.
Thanks to the «growing file» technology, it is possible to edit materials that are in the process of recording, thereby moderating live broadcasts and playing them back with a delay of several minutes.
A set of effects for video and graphic layers includes 2D DVE, Chroma Key, adjustment of audio levels and playback speed. News CUT is similar to standard NLE editors in its feature set, allowing you to assemble multi-track compositions on the TimeLine, add simple Mix/Wipe transitions and layer graphics such as text, placeholders, backgrounds, warped video, animations and Voice-over.
If necessary, the result of editing can be calculated and saved to a file on the client station or the server itself. A set of hotkeys, similar to Final Cut, with the ability to edit keyboard shortcuts, facilitates work. Hot Keys support lets you use USB Jog-Shuttle controllers and keyboards for video editing. News CUT includes a TimeLine window, a built-in Media Browser, a File Monitor video and graphics viewer, and a graphics editor.