Preparing materials for Playout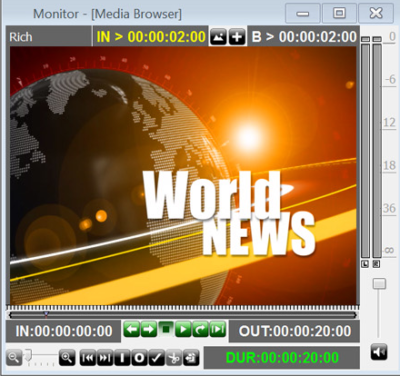 Editing IN/OUT points, setting IN/OUT advertising points
The Media Browser Tool displays the storage contents of one or more servers on a shared network. It is a module of the Air Manager, News Cut applications. The Media Browser includes features for manually importing files into the online storage, adding a short description, searching, filtering, setting «lifetime», and exporting content and fragments.
The File Monitor tool is used to view and edit IN and OUT points. The use of proxies does not load server arrays and makes network collaboration possible. Image and sound can be redirected from the video card of the client station to the SDI card for viewing on an external video monitor, displaying sound levels and timecode. Hotkey support allows the use of standard USB Jog-Shuttle controllers to work with video.
Design templates preparation in the Graphics Editor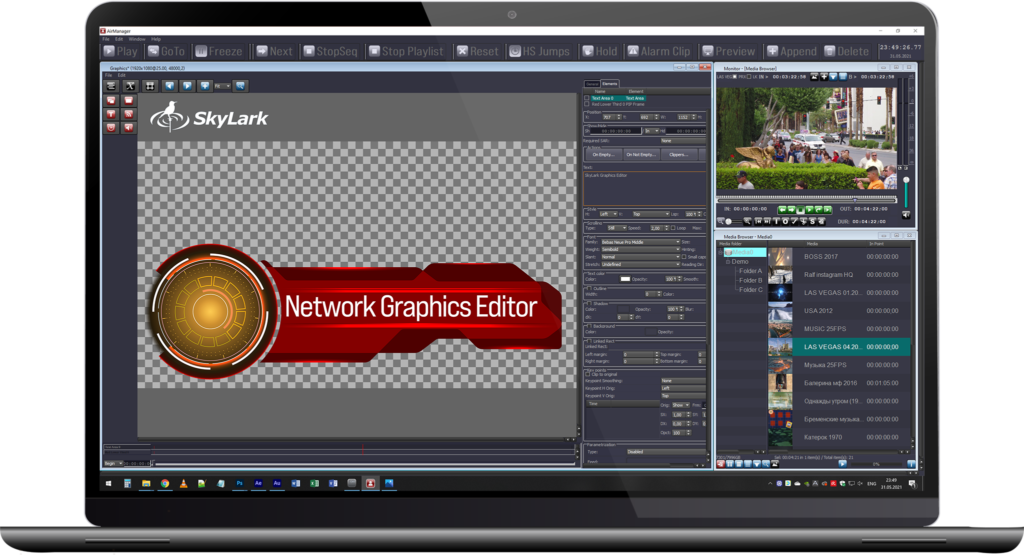 Network Graphics Editor allows you to create and edit titles and multi-layer graphic compositions. Is a module within the applications Air Manager, News Cut, Media connect.
The editor interacts with the Media Database, all source materials and results of the work are stored on a server array. This allows multiple users to work on projects simultaneously and instantly play back the created compositions. Rendering is performed by the server directly during playback.
Graphics Editor allows you to work with static graphic files, fragments of 32-bit animation and video with access to the database and proxy copies. Editor has a complete set of tools for quick creation of graphics with 2D effects and titles, including clips, sliders, TV clocks and RSS feeds.
Creating promos by proxy using the News CUT application
The capabilities of the SL NEO platform allows you to fast edit on network workstations news reports, TV stories using proxy copies. For these purposes the network client News CUT is used. Source materials are stored in the database of one or several SL NEO servers, all News CUT users have access to the database and proxies and work with projects without downloading source materials to their stations.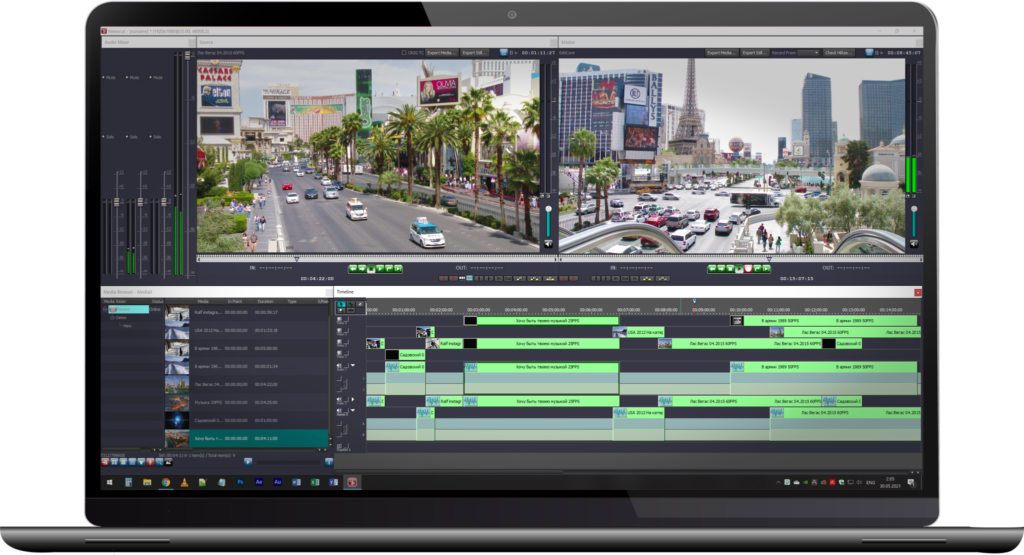 Editing results are stored in the server database in the form of text XML descriptions of editing solutions, and the stories are immediately available for on-air playback after editing is completed. Playback is performed using standard playlist operations.
Thanks to the «growing file» technology, it is possible to edit materials that are in the process of recording, thereby moderating live broadcasts and playing them back with a delay of several minutes.
A set of effects for video and graphic layers includes 2D DVE, Chroma Key, adjustment of audio levels and playback speed. News CUT is similar to standard NLE editors in its feature set, allowing you to assemble multi-track compositions on the TimeLine, add simple Mix/Wipe transitions and layer graphics such as text, placeholders, backgrounds, warped video, animations and Voice-over.
If necessary, the result of editing can be calculated and saved to a file on the client station or the server itself. A set of hotkeys, similar to Final Cut, with the ability to edit keyboard shortcuts, facilitates work. Hot Keys support lets you use USB Jog-Shuttle controllers and keyboards for video editing. News CUT includes a TimeLine window, a built-in Media Browser, a File Monitor video and graphics viewer, and a graphics editor.
---