Capture
Broadcast System inputs — Capture Ports are designed to receive External Signals and Streams that are intended to be used in the Output Programs:
Live events in Output Programs: Live broadcasts, reporters' standups, and Live feeds from TV studios;
Live content moderation and delayed playback from several seconds to several minutes;
Time Shift up to several hours, used when broadcasting to time zones;
Insertions of regional commercials and local programs into the input stream received from the central station;
Live Feeds recording, fast or post-production editing and playback,
Ingest materials from video tapes, viewing, In/Out markup, operational storing and playback,
Receives Fill+Key from an external Broadcast Graphics system (e.g. during Live sports events or when displaying voting results) and overlaying on the signal of the output program.
The types and formats of input signals can be absolutely different. Servers and SL NEO software supports all common in the industry types of interfaces, television standards and IP-protocols.

In any type of Server, the input signal or stream from the hardware interface is captured by the software module Stream Capture. It receives video data, embedded audio and embedded ANC data from an SDI capture board or Ethernet adapter, as well as operates with ASI/IP streams and supports MPEG2 data.
There are many such modules working simultaneously in the system, and their number is equal to the number of system inputs.

Functional Diagram of the Stream Capture Module
Stream Capture receives a single program stream from the board/capture interface or demultiplexes one multiprogram stream, selects and decodes the single stream to the common format of data exchange between the SL NEO platform modules — to Uncompress level.
Stream Capture Processing functions:
Color Space/up/down/cross (fps) сonversion,
Audio gain settings and audio tracks routing in 64×64 space,
ANC or MPEG2 Data de-embeddind and Decoding (CEA-608/708, OP-42/47, SCTE-104/35, VITC, AFD, WSS, DVB/ATSC Subtitles, EPG), FTMF from audio tracks,
Proxy stream encoding for preview in Multiscreen Client Application (internal SL NEO monitoring format).
Uncompressed output stream from Stream Capture output can be simultaneously fed to the inputs of other SL NEO modules via SL NEO Virtual Router:
File Recorders,
Program Players to mix Live Events into the output program. In Fill+Key mode, the Program Player will overlay the video with alpha from Stream Capture and audio mix to output program,
Time Shift and Profanity Delay software modules,
MultiScreen modules,
Stream Player modules, if you want to get one or more output streams with different parameters of resolution, fps and encoding.
Capture Ports Licensins
SkyLark Technology Inc.'s licensing policy is intended to give users a wide range of capabilities to configure the system on their own. Only the Number of Capture Ports and their formats are licensed: SD or HD/SD or UHD/HD/SD. Downgrading a format will not affect the validity of the license. For each Capture Port you can Select any type of Capture Interface, for IP Input Streams — any Protocol from the list of supported.
Recording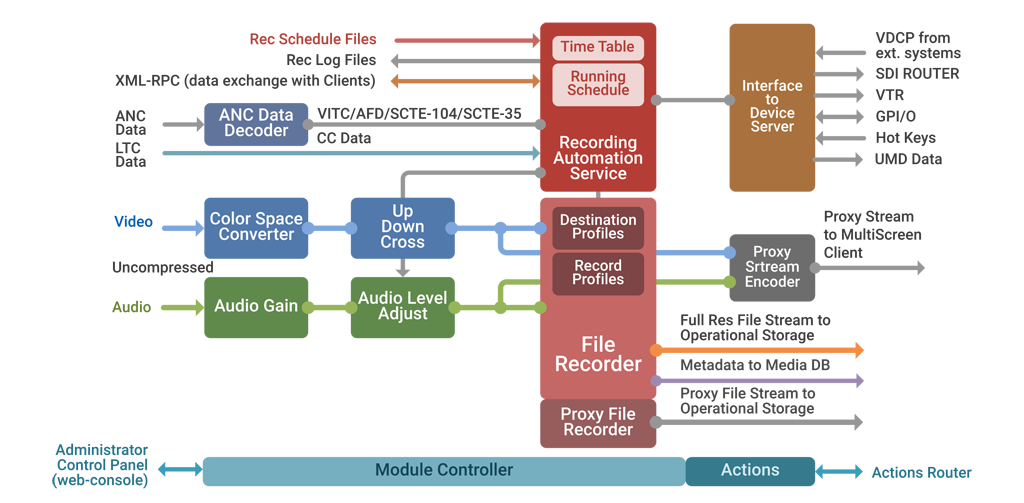 Functional Diagram of the File Recorder Module
File Recorder and Recording Profiles
If Recording is required, the uncompressed audio/video/data stream is sent to the File Recorder module through SL NEO Virtual Router. File Recorder creates files according to schedules (recording lists) and using selected recording profile. A recording profile is a set of the following parameters:
for video: resolution, fps value, codec, bitrate;
for audio: the number of channels, sampling frequency, bit depth, codec, bitrate;
for files: container type (mxf, mov, mp4 and others).
The number of file streams per recorder is two: Full Res + Proxy.
Recording Control
The Recording process is controlled using the Air Manager client application or via the web clients.

Air Manager application GUI in Record configuration: 2x Record windows, File Monitor and Media Browser windows.
The «Record» windows of the GUI show the list of recording tasks from File Recorder and their current statuses. Rec-lists are loaded from traffic system or created in the built-in Air Manager application's Record list Editor.
Types of events start: Manually, at Hard Time, by external XML-RPC, VDCP, GPI Commands, by data from incoming SCTE-104, SCTE-35, DTMF markers, synchronous start of several recorders.
Device Control via Device Server Module: SDI Router Control for automatic or manual source switching before next event starts, VTR Control via RS-422, IEEE1394 in batch capture mode from tape.
Environments for Recording
OS File System: works with files only, normal or fragment file recording mode (array of files with configured fixed duration),
SL NEO Media DataBase: work with virtual clips (full res+proxy files+metadata), the growing file recording mode allows you to access the material for viewing, editing, copying and playback as soon as a second after you start recording.
Avid Unity/Interplay.
Recording with Media Database
The built-in database of the SL NEO Media Platform extends the scope of the operating system when working with media:
Initial content cataloging by transferring metadata from the record schedule lines,
Network multiuser access

to recorded material, metadata, and proxies,

Content search in Server storage by txt metadata (10 text attribute fields in the standard SL NEO Server license),
Browsing, clip trimming, quick collective proxy editing in News Cut NLE application,
Content lifetime settings, content marking (adding and storing keyframes and other attributes).
Recording and storage of Closed Captions Data in SL NEO Media Database: CEA-608, CEA-708, OP-42, OP-47, DVB/ATSC Subtitles Data.
Manual and automatic marking of materials during recoding by external commands, markers and signs in the input streams:
Hotkeys from client applications, XML-RPC, GPI commands from external devices,
SCTE-104, SCTE-35 data, and DTMF tags, detection of video freezes and black frames in input streams,
Searching for matches of video fragments in the input signal with the stored reference video.
Hot Redundancy
SL NEO Platform supports parallel recording to the Main and Backup Servers, controlled from a single rec-schedule.
Automatic Content Export
After recording, content must necessarily be delivered to the right point in the system for any further processing. It may be NAS in the NLE area, operational archive storage, playout — zone. To perform this job, the Transfer Manager server module is used, which performs automatic multi-threaded operations with file content based on rules.
If recording is performed in a space managed by the media base, the content becomes available seconds after recording starts. This also applies to the copying procedure: the Transfer Manager starts copying at the start of recording, thereby significantly optimizing file operations.
The Transfer Manager Pro version allows you to transcode file content while moving:
change video resolution and fps parameters, encoding parameters (codec and container),
normalize the audio track by signal level or volume, change audio coding parameters (mono/stereo, sample rate, bit depth, codec).
Actual Features
Supports all common codecs and containers for recording, including compatibility with NLE and Playout.
Automatically optimization of using hardware resources, allowing you to cope with growing recording tasks with the same amount of hardware resources.
Synchro Start of many recorders on several servers, LTC receiving for marking and synchronization of tracks in multi-cam recording for production.
Operational control and adjustment of audio levels from the Air Manager client application windows.
Built-in schedule generator based on Time Tables (programming by days of the week, start time and recording duration).
Diagram of SL NEO modules interaction during capture and recording. SL NEO Servers have the same structure: 1000 Series — Multichannel Recorders and 3000 Series — Channel in a Box.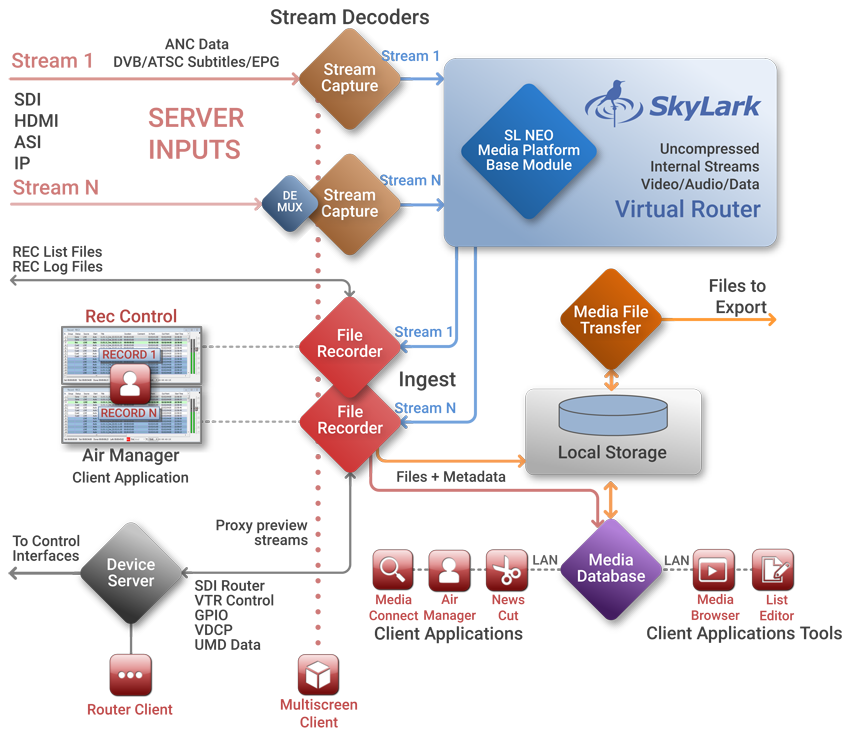 ---