The Recording System based on the SL NEO Software allows you to record an unlimited number of TV and radio channels continuously around the clock. Recording is possible in two modes: continuously, according to the internal rules set for each channel (for example, «Monday-Friday, from 06:00 to 24:00») or according to a detailed schedule compiled in advance. It is possible to import an on-air playlist or as run log, which makes it easier to find materials.
The system works in cyclic recording mode, which makes efficient use of disk space. Each channel has a retention period (e.g., 90 days), after which the media and metadata are automatically deleted.
The Stream Capture software module decodes the input SDI/ASI/IP stream of one program and extracts the embedded ANC or MPEG2 data: CEA-608/708, OP-42/47, SCTE-104/35, VITC, AFD, WSS, DVB/ATSC Subtitles, EPG, DTMF from audio tracks. AV and data from Stream Capture output is fed to single channel File Recorder module, which performs recording to files according to the selected profile. A recording profile is a set of parameters: resolution, fps value and codec for video, a set of parameters for audio and a file container.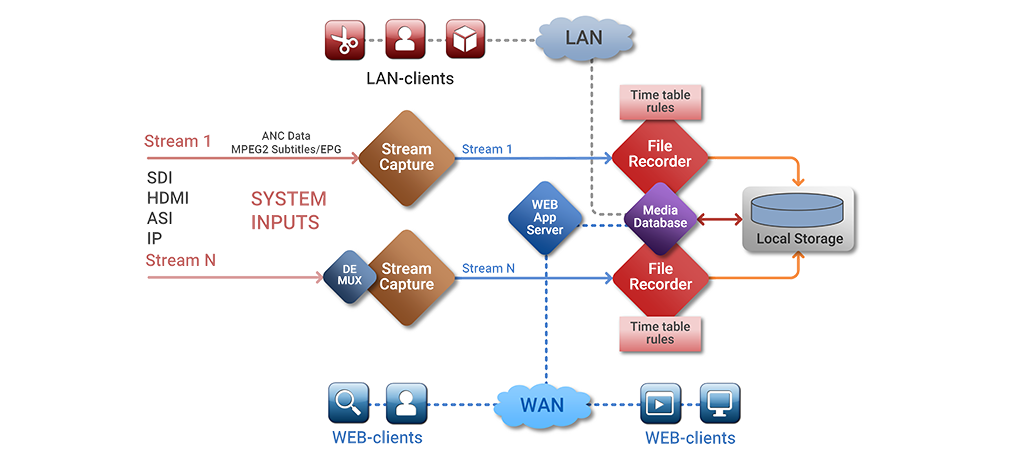 SL NEO Software Modules in Compliance Recording System: up to 16x HD Rec Channels in One System or VM Unit
Recording with Media Database
The built-in Media Database of the SL NEO Media Platform extends the scope of the operating system when working with media:
Initial content cataloging by virtual folders with Channel names and recording date in names of folders,
Network multiuser access to recorded material, metadata, and proxies,
Content search in Server storage by txt metadata (10 text attribute fields in the standard SL NEO Server license),
Browsing, clip trimming, quick collective proxy editing in News Cut NLE application,
Content lifetime settings, content marking (adding and storing keyframes and other attributes).
Recording and storage of Closed Captions Data in SL NEO Media Database: CEA-608, CEA-708, OP-42, OP-47, DVB/ATSC Subtitles Data.
Manual and automatic marking of materials during recoding by external commands, markers and signs in the input streams:
SCTE-104, SCTE-35 data, and DTMF tags, detection of video freezes and black frames in input streams,
Hotkeys from client applications, XML-RPC, GPI commands from external devices,
Searching for matches of video fragments in the input signal with the stored reference video.
Online Monitoring of Input Streams
SL NEO Platform offers two different technologies to monitor all AV inputs
Built-in MultiScreen Client application allows workstations to perform on-line monitoring of AV signals coming from all active capture, recording and other Server Software modules in Network (in proxy mode).

SDI/HDMI and/or IP/ASI Multiscreen Monitor Output is needed to view all input signals in multiview mode with an overlay of audio levels. Built-in up/down/fps conversion allows signals with different resolution and frame rates to be displayed together on the same display (in full HD or UHD mode). Alarms will alert the operator to abnormal situations such as freeze frame or «black» field, when audio levels are exceeded or undershot.
Multiscreen Monitor Output and built-in MultiScreen Client application allow you to monitor all signals/streams of the server Capture and Recording modules inputs.

Multiscreen Software Module Function Block Diagram
Basic functions of recording systems (compliance, logging, monitoring):
recording schedule generators based on Time Table;
recording with different resolution, configurable for each channel (from 320×240 to 1920×1080);
overlay of the actual date and time of recording on the picture;
viewing recorded Closed Captions in client applications;
built-in content management system;
quick collective editing by proxy-copies, with overlapping titles;
export of footage to external media, with support for most popular codecs and containers;
multiscreen monitoring of all input signals/streams;
generation of reports on the main events (recording, data management, user actions).