The Workflow of Broadcasting one or more television channels, consists of relatively simple operations. The solutions presented by SkyLark Technology allow implementing and automating the absolute maximum of them. Based on the SL NEO Platform Modular Software, it is possible to create a Fault-Tolerant System based on any of the following schemes:
Classic Broadcast System with discrete signal processing elements, Master Control Switcher, Ingest, Playout and Graphics Servers controlled by the Broadcast Automation System,
Channel-in-a-Box: compact & powerful system for processing files, signals and streams in one hardware unit, capable of output up to 8 x PGM HD Сhannels,
Cloud-based: geographically remote virtual environment controlled from desktops, tablets, and mobile devices over a global network.
Classic Broadcast System Scheme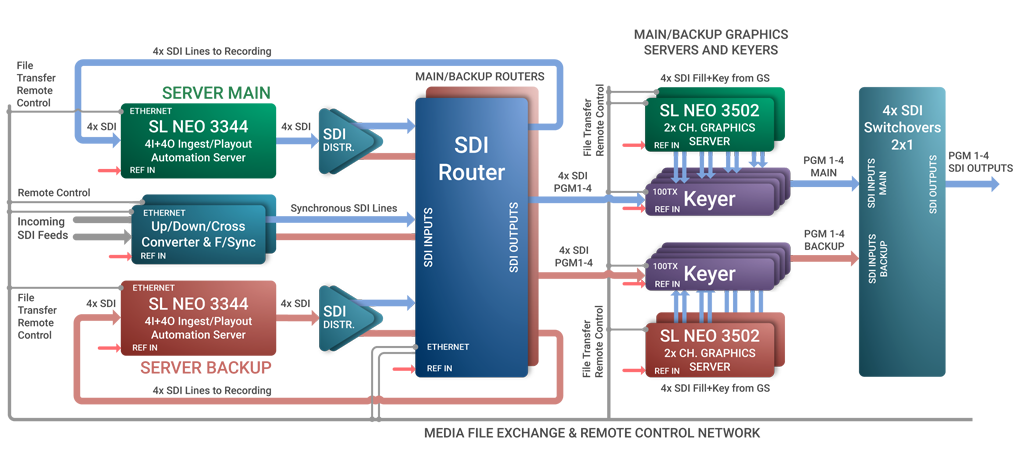 Mirror scheme with 100% redundancy of all servers and path elements. SDI Routers perform the roles of Master Control Switchers. Ingest & Playout servers contain built-in self-contained Recording Automation and Broadcast Automation Systems. Each such System is responsible for performing the recording or playout schedule for a single channel.
During schedule execution, each Automation System controls its own set of devices (real or virtual):
VTRs during ingest from tapes,
File Recorders,
SDI Switcher outputs working for recording channels,
SDI Switcher outputs or MCS to switch output program sources,
File Players,
Playout Channels of the Graphics Servers, DSK, Logo Inserters, etc.,
Audio Processors (control for Change DRC or Loudness Normalization Scheme, e.g.),
Closed Captions Generators & Inserters,
SCTE-104 Data Inserters,
TSL/UMD Devices,
GPO Devices in Pulse or Level Modes.
Hardware modules provide up/down/cross conversions and frame synchronization for external Live signals, distribute SDI between main and backup half kits, receive Fill and Key from Graphics Servers, and overlay graphics.
The Main and Backup half systems work in sync. The each Backup Program Player services constantly synchronize their playlists from the main Program Player module, all playout channels runs in parallel and in sync. If the main set fails, the backup continues to work autonomously. After the main set is restored to working condition, a one-time synchronization of its playlist services from the backup is performed. On-line synchronization also occurs at the content level (files, metadata) between the main and backup servers.
Despite the large number of infrastructure elements and high cost, the «classic» scheme remains relevant for large broadcasters, because it allows you to simultaneously receive and process a large number of external signals and output programs.
It is not always possible to choose a Channel in a Box
Channel in a Box cannot always provide the necessary number of capture ports, the number of recording, playback and encoding channels. Setting up a hardware module to receive and transcode a signal from an external source is clearer and easier, while setting up and reloading capture ports on a running multichannel server can make of output freezing. In a circuit with discrete elements it is easier to perform instrumental control and check the signal passage at each point of the path, in an integrated system this is not possible.
Thus, when choosing a system configuration, we always take into account the nature and scope of operations. As a rule, several solutions are offered to the client.
With any type of configuration, any SkyLark Broadcast System includes functionality to implement processes as parts of the Core Workflow:
Multiformat Capture and Input Streams Processing
Inputs: SDI, HDMI, ASI, IP with ANC/MPEG2 Data
SMPTE ST 2110/2022−7, NMOS IS-04/IS-05 support
Multichannel Automated Recording with Instant Acsess
Rec Schedules Import, Preparation and Editing Tools
Wide range of File Codecs and Containers
File Ingest with Transcoding and Multithreading
File Validation Checking, Loudness Normalization
Asset Management integrated with Traffic Systems
Fast Collective Edit & Content Preparation Tools for Playout
Live Content Moderation with Delayed Playback
Play-lists Import, Preparation and Editing Tools
Fail Safe Playout: Mixed Formats, Live/File Sources
Multilayer Graphics Preparation in Network Graphics Editor
Stills, Video Files/Live, Alpha support, 2D DVEs, Dynamic Texts
Channel Branding with Secondary Events and Objects Parametrization
Data Processing: SCTE-104/35, DTMF, AFD/WSS I/O
Open and Closed Captions and Subtitles in Multiple Formats
Live or File Generation Mode, Retransmit from Input to Output
Integration by third-party Systems, Device Control
Processing, Encoding & Multibitrate Streaming for Delivery
Outputs: SDI, HDMI, ASI, IP with ANC/MPEG2 Data
SMPTE ST 2110/2022−7, NMOS IS-04/IS-05 support
Multuscreen Monitoring
SDI, HDMI, ASI, IP Outputs
or Proxy streams via Client Software
Compliance Recording and Logging
Operations Control and Workflow Management
Using Multifunctional Client Applications and Web-Clients
---