Channels in a Box (CIAB) is the best alternative to the «classic» because of the amount of capital costs, which can be many times less than the cost of building a classic system with a large number of discrete hardware modules.
Using Standard Server Platforms from well-known brands will ensure reliable long-term operation. SL NEO Software from SkyLark Technology will provide all necessary functionality and system fault tolerance.
Ports and Channels in one Box
Up to 8x HD or 2x UHD Capture Ports for Recording and Live Events for Output Programs,
Up to 8x HD or 2x UHD Recording Channels,
Up to 8x HD or 2x UHD Program Channels with Graphics,
Up to 8x HD or 2x UHD Output Ports.
Options for Playout Systems based on SL NEO CIAB
Diagram A. System based on SDI and compresse

d IP Streams
In example, you can see 2 SL NEO servers 3000 series (main and backup). Each generates 4 output programs.
The sources for these 4 programs are files and external feeds: 4 SDI lines and 4 IP streams.
The external SDI router receives the commands from servers and switches signals to server inputs for recording or for using in output programs as Live sources. 8 streams: SDI and IP for each program on the outputs of the main and backup server.
Fault tolerance is provided by 100% «hot» redundancy of servers.
Redundant playlists and playout channels operate in parallel and synchronously with the main channels.
This allows you to instantly switch to a redundant half-set if necessary.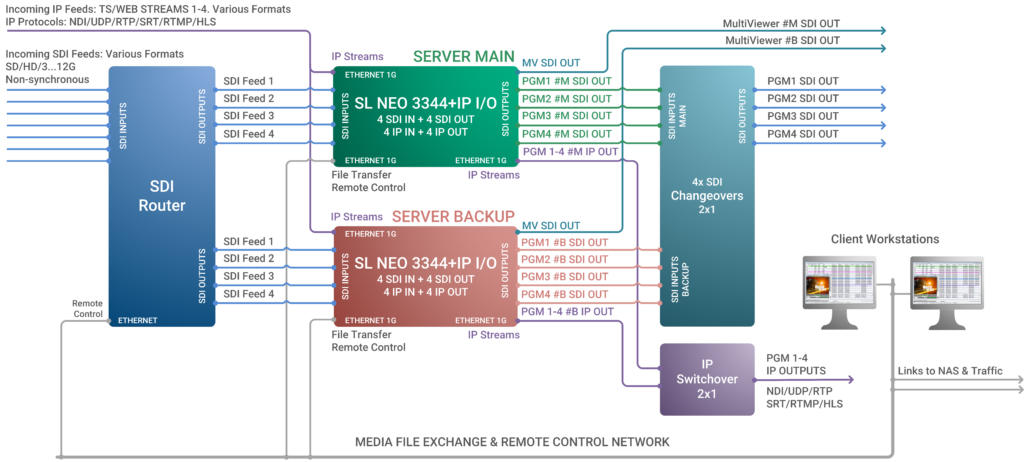 An important feature of Channel in a Box: a mix of SDI/ASI/IP input interfaces, signals and SD/HD/UHD formats with different frame rates.
All ports/inputs use buffering and frame synchronization together with up/down/cross conversions.
This ensures parallel processing of signals of any standards and frame rates.
Therefore, Skylark's solution provides possibilities of switching, mixing, and playing files and live sources with different resolution and FPS on-air.

The same can be said about multiscreen displaying on a single monitor for signals of various formats: NTSC/PAL/720p/1080i/1080p/2160p with FPS values varying from 25 to 60.
Diagram B. Playout Systems Based on uncompressed
SMPTE ST 2110 IP Streams
SkyLark's Channels-in-a-Box allows you to create a multichannel playout system that uses the SMPTE ST2110 IP-protocol. For receiving/transmitting SMPTE ST 2110−20/30/40 streams, NVIDIA Rivermax network adapters are used. The ST2022−7 redundancy and 'seamless' switching standard is supported.
Device detection and connection is implemented in NMOS browser (IS-04, IS-05). The diagram shows an example of creating a fault-tolerant 8-channel system that uses the ST2110 transport.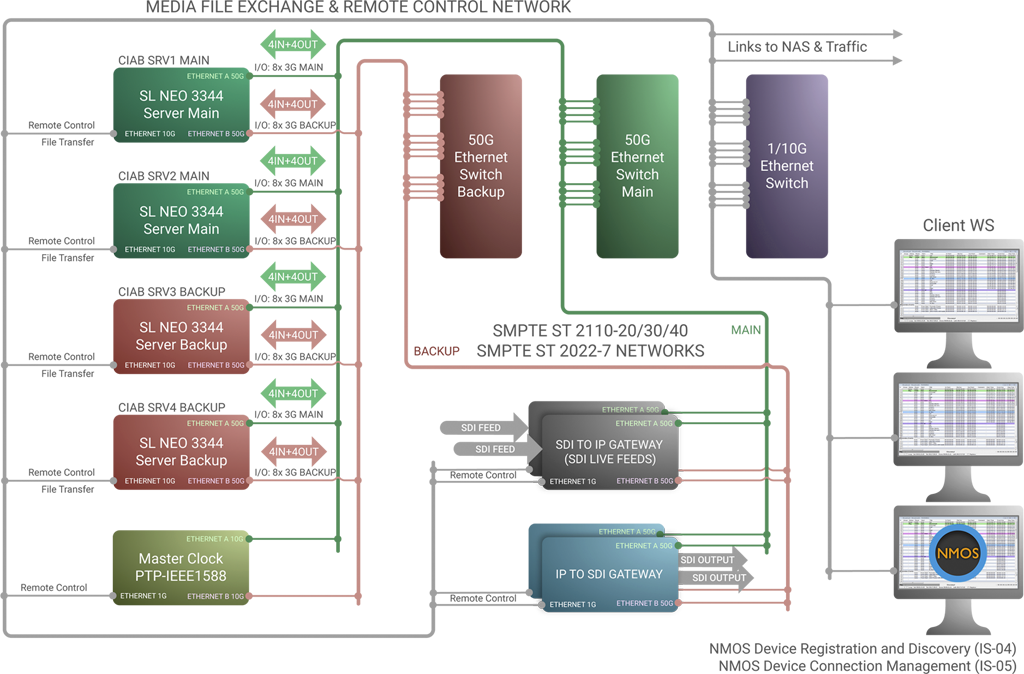 Automated Playout with Graphics
The Program Player Server Module of the SL NEO platform is responsible for playing playlists and forming the final program signal of one channel. It plays files according to playlist events and switches live signals from external sources into the program.
Program Player is also responsible for Channel Branding: automatic (or manually controlled) playback of multilayer compositions/templates consisting of titles on animated backgrounds, clips with alpha channel, live video, PIP and 2D effects, Chroma Key effects. The compositions are logically arranged among the virtual players (layers).
The functional diagram shows the internal structure of Program Player Module: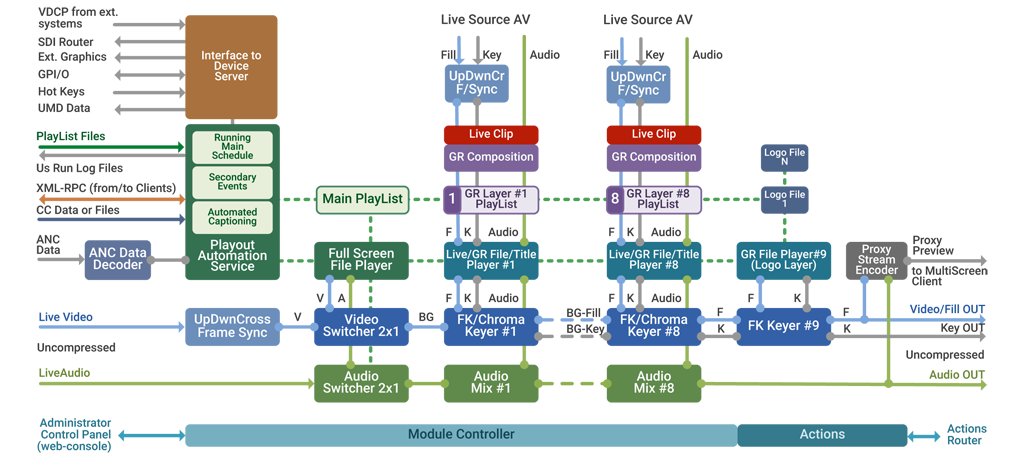 I/O Data Formats Supported by SL NEO Channels in a Box Solutions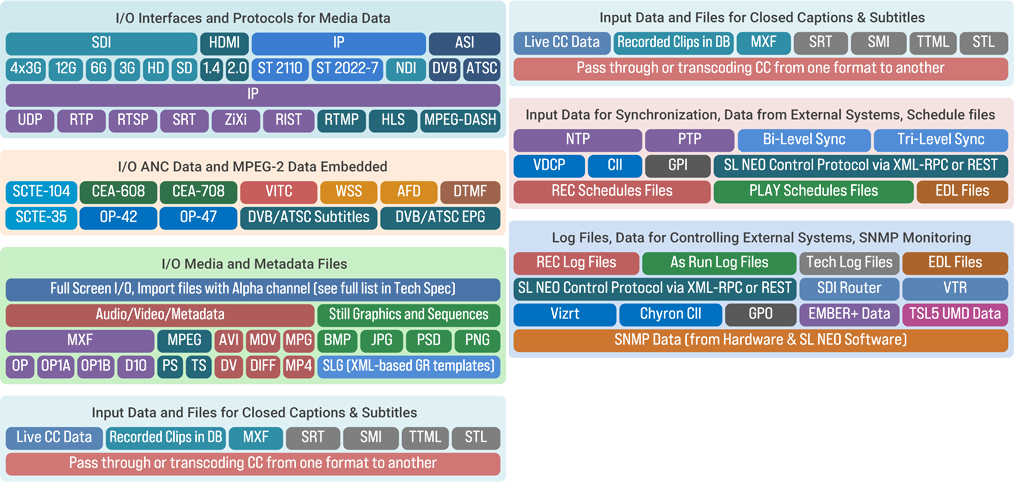 SL NEO Client Applications are designed to control recording and playback operations of CIAB. The applications include tools for viewing, importing files, editing content and schedules, and creating graphics templates. If remote management is performed via WAN, remote clients are working use a web browser.

---